Mitee-Bite Dyna-Force Clamps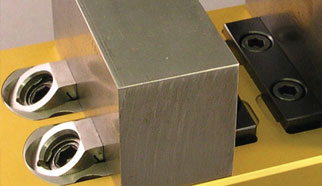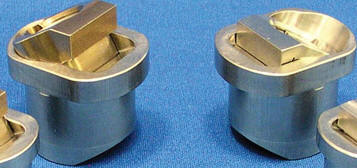 Dyna-Force® Clamps
The majority of the Dyna-Force® clamp is below the surface of the fixture which provides excellent clamp support and makes for a very low profile. The clamp jaw slides on an angle for positive downforce.
The clamp jaw is available with smooth or serrated faces.
The support surface of the Dyna-Force® clamp can be installed flush with the fixure plate or raised to hold the workpiece off the fixture, enabling drill-through.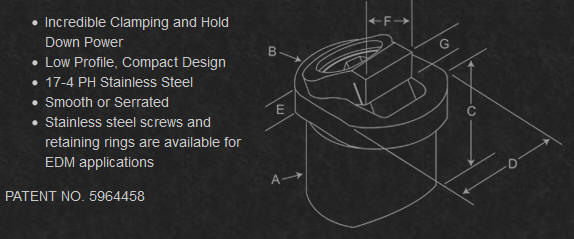 Dyna-Force® Installation

Bore ℄ of the hole "L" distance from edge of workpiece.
Drill and tap "H" to mount clamp in pocket.
Machine counter bore if recessing clamp into fixture.
Provide a back stop to locate the part.

NOTES:

"N*" – To have rest pad flush with fixture, use the dimension provided. To have the
rest pad above the fixture surface, reduce the depth accordingly.
For dimensions I and J, use a tolerance of +.1/-0mm. For dimension L and O,
use +.1/-.1mm.

Height of Jaw in Relation to ℄ of bore
from edge of workpiece.

Height of Jaw
G
20mm
L
25mm
L
30mm
L
3.25
5.91
3.50
5.77
3.75
5.62
4.00
5.48
4.25
5.33
4.50
5.19
6.81
8.78
4.75
5.05
6.66
8.63
5.00
4.90
6.52
8.49
5.25
4.76
6.37
8.35
5.50
5.61
6.23
8.20
5.75
4.47
6.08
8.06
6.00
4.32
5.94
7.91
6.25
4.18
5.80
7.77
6.50
4.03
5.65
7.62
6.75
3.89
5.51
7.48
7.00
5.36
7.34
7.25
5.22
7.19
7.50
5.07
7.05
7.75
4.93
6.90
8.00
4.78
6.76
8.25
4.64
6.61
8.50
6.47
8.75
6.33
9.00
6.18
9.25
6.04
9.50
5.89
9.75
5.75
10.00
5.60
10.25
5.46
10.50
5.31
10.75
5.17

Example: 20mm clamp when CL of bore is 4.90mm from edge of workpiece
(L – see drawing on left): jaw height is 5.00mm
| Part Number | H | I | J | K | L | M | N | O |
| --- | --- | --- | --- | --- | --- | --- | --- | --- |
| 28314 | M5 or 10-24 | 25.00 | 20.00 | 6.00 | 4.90 | 5.00 | 4.50 | 20.00 |
| 28318 | M5 or 10-24 | 25.00 | 20.00 | 6.00 | 4.90 | 5.00 | 4.50 | 20.00 |
| 28320 | M6 or 1/4-20 | 30.00 | 25.00 | 6.50 | 5.65 | 6.00 | 5.00 | 25.00 |
| 28322 | M6 or 1/4-20 | 30.00 | 25.00 | 6.50 | 5.65 | 6.00 | 5.00 | 25.00 |
| 28324 | M8 or 5/16-18 | 38.00 | 30.00 | 8.00 | 7.05 | 7.50 | 7.00 | 30.00 |
| 28328 | M8 or 5/16-18 | 38.00 | 30.00 | 8.00 | 7.05 | 7.50 | 7.00 | 30.00 |